Pipe clip collars
Pipe clip collars with a washer or a bolt: the characteristics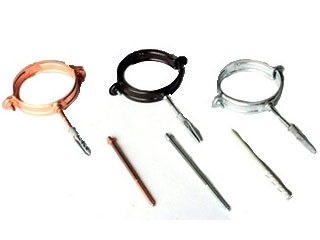 A number of important items, such as the pipe clip collars, is included in the plumbing components used in the companies of the field. In order to ensure the greatest performance, the collars must be long-lasting, reliable and safe.
SEE ALSO: Round guttering elbows
There are various types of collars, but the most important are divided into two categories: those fitted with a washer and those fitted with a bolt. The collars fitted with a brass bolt have a lateral thread.
These pipe clip collars offer a good value for the money and have a high performance.
The collars fitted with a washer are available in several sizes in the market (i.e. circular collar diameters of 6-8-10-12 and 8×8, 10×10 and 6×9 rectangular collars) and are made of galvanized steel, copper and stainless steel. The range of pre-painted collars can include, depending on the size, different colors such as dark brown, Siena red, white grey, silver, anthracite grey and cooper roof.
The hex bolt of the pipe clip collars with a brass bolt creates a gap between the wall and the rain pipe. Nevertheless, the cost of the bolt affected the market's demand which has decreased over time. The pipe clip collars with a bolt have an excellent resistance and don't need spacers for small spaces.