Universal skylight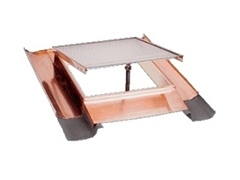 The name of this skylight immediately identifies its intended purpose: i.e. for any type of coverage on the roof, except those with plain tiles. Its structure, with 6/10 pleated lead lateral bands, make it easily adaptable to any tile, except for flat tiles.
Features

external pre-painted coating in dark brown, or 6/10 thick copper
Wooden rolling-shutter box
Rod with three intermediate positions and full opening
Available with wire-reinforced glass, tempered glass, or 6mm. alveolar polycarbonate.
Window hole sizes: cm: 49×58