Circular elbows with side crimping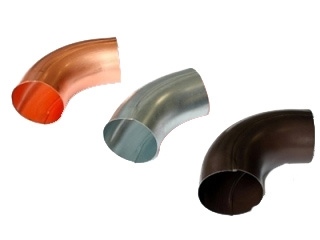 CLC of Malo, in Italy's Province of Vicenza, has designed a new kind of gutter elbow with side crimping, instead of the more common crimping in the central part of the connection.
The Vicenza-based company has come up with this particular crimping system to improve the passage of water. The free-flowing water does not exert excessive and prolonged pressure on the joint, thus eliminating the problem linked to the risk of water leakage through the crimping, as well as eliminating the problem of water stagnation in sections of the crimping that colder months may freeze, leading to damage and failure of the structure. In addition, the lateral crimping system makes for a more aesthetically pleasing gutter elbow, with the surface appearing completely smooth.
CLC  offers many kind of items with different raw material, but values request of other production with different solution.
Elbows, 45° Fig. 1: this elbow can be used as a "mover"
| | | | | |
| --- | --- | --- | --- | --- |
| Size | Raw material | Color | Plate thickness | Box |
| Ø 8 cm. | Galvanised | | 5/10 | 10 pcs |
| | Copper | | 5/10 | 10 pcs |
| | Painted | Dark brown, Siena red, Grey-white, Dark grey, Anthracite grey, Chocolate | 5/10 | 10 pcs |
---
| | | | | |
| --- | --- | --- | --- | --- |
| Size | Raw material | Color | Plate thickness | Box |
| Ø 10 cm. | Galvanised | | 5/10 | 10 pcs |
| | Copper | | 5/10 | 10 pcs |
| | Painted | Dark brown, Siena red, Grey-white, Dark grey, Anthracite grey, Chocolate | 5/10 | 10 pcs |
---
Elbows, 72° Fig. 2 :

| | | | | |
| --- | --- | --- | --- | --- |
| Size | Raw material | Color | Plate thickness | Box |
| Ø 6 cm. | Galvanised | | 5/10 | 10 pcs |
| | Copper | | 5/10 | 10 pcs |
| | Painted | Dark brown, Siena red, Grey-white, Dark grey, Anthracite grey, Dust grey | 5/10 | 10 pcs |
| | Aluminium | Dark brown, Siena red, Grey-white, Anthracite grey, Natural, Grest copper, Silver, Copper roof | 6/10 | 10 pcs |
---
| | | | | |
| --- | --- | --- | --- | --- |
| Size | Raw material | Color | Plate thickness | Box |
| Ø 8 cm. | Galvanised | | 5/10 | 10 pcs |
| | Copper | | 5/10 and 6/10 | 10 pcs |
| | Painted | Dark brown, Siena red, Grey-white, Anthracite grey, Dust grey, Slate-grey, Brown-red, Chocolate, Dark green | 5/10 | 10 pcs |
| | Aluminium | Dark brown, Siena red, Grey-white, Anthracite grey, Natural, Grest copper, Silver, Copper roof | 6/10 | 10 pcs |
---
| | | | | |
| --- | --- | --- | --- | --- |
| Size | Raw material | Color | Plate thickness | Box |
| Ø 10 cm. | Galvanised | | 5/10 | 10 pcs |
| | Copper | | 5/10 and 6/10 | 10 pcs |
| | Painted | Dark brown, Siena red, Grey-white, Anthracite grey, Dust grey, Slate-grey, Brown-red, Chocolate, Dark green | 5/10 | 10 pcs |
| | Aluminium | Dark brown, Siena red, Grey-white, Anthracite grey, Natural, Grest copper, Silver, Copper roof | 6/10 | 10 pcs |
---
| | | | | |
| --- | --- | --- | --- | --- |
| Size | Raw material | Color | Plate thickness | Box |
| Ø 12 cm. | Galvanised | | 5/10 | 8 pcs |
| | Copper | | 5/10 | 8 pcs |
| | Painted | Dark brown, Siena red, Grey-white, Anthracite grey, Dust grey, Slate-grey, Brown-red, Chocolate | 5/10 | 8 pcs |
---
Elbows, 90° Fig. 3:

| | | | | |
| --- | --- | --- | --- | --- |
| Size | Raw material | Color | Plate thickness | Box |
| Ø 8 cm. | Galvanised | | 5/10 | 10 pcs |
| | Copper | | 5/10 and 6/10 | 10 pcs |
| | Painted | Dark brown, Siena red, Grey-white, Anthracite grey, Slate-grey, Brown-red, Chocolate, Dark green | 5/10 | 10 pcs |
---
| | | | | |
| --- | --- | --- | --- | --- |
| Size | Raw material | Color | Plate thickness | Box |
| Ø 10 cm. | Galvanised | | 5/10 | 10 pcs |
| | Copper | | 5/10 and 6/10 | 10 pcs |
| | Painted | Dark brown, Siena red, Grey-white, Anthracite grey, Slate-grey, Brown-red, Chocolate, Dark green | 5/10 | 10 pcs |
---