Large horizontal skylight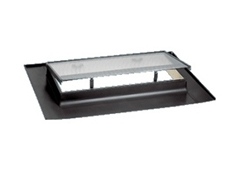 The oversized horizontal skylight is designed for situations where the light is insufficient.
Available with wire-reinforced glass, or 6mm. alveolar polycarbonate. Available for flat roofs or universal. Wooden rolling-shutter box.
On request: Euro Onda (6 waves), dimensions: 100 x 50 cm. with wire-reinforced glass, tempered glass, polycarbonate.
Window hole sizes: cm: 90×50; 100×50; 110×50; 120×50
Materials: Galvanised, Copper, Stainless Steel.
Painted: Dark brown.
Plate thickness: 6/10