Flashing units for construction
Let's look at the best flashing units for construction and plumbing components available on the market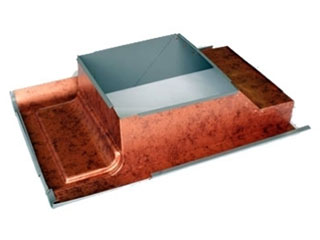 In the production of plumbing and construction components, the quality of the construction materials and the technological innovations make the difference for accessories such as elbows, collars, skylights, flashing units for construction and many others. In particular, the best flashing units stand apart for their durability and reliability.
SEE ALSO: Round guttering elbows
There are a number of different flashing units for the building sector. They have an essential role to protect chimneys and flues as they must be able to drain rainwater away efficiently. According to the specific needs of the customer, closed flashing units for tiles can be fitted with lead crimped weathering 6/10.
The most demanded flashing units for construction include those for round chimneys, open flashing units adjustable on two sides and closed which can be adjusted on four sides. The market offers different sizes of chimney closed flashing units for construction: from 15 to 25 cm (category mini), from 18 to 30 cm (category 1), from 30 to 58 cm (category 2), from 58 to 82 cm (category 3). They are made in galvanized steel, copper, stainless steel, Cooper Roof aluminum and pre-painted in dark brown.
The round flashing units for construction are made only of galvanized steel or galvanized dark brown steel. The flashing units adjustable on 4 sides with lead can fit to a lead chimney weathering which can easily adjust to the roof flashing unit. Categories 1,2 and 3 are available for these types of adjustable flashing units. The materials which are used for the closed flashing units can be used for lead weatherings as well.
The range is completed by the flashing units for construction adjustable on 2 sides for the building sector which are available in the categories mini, 1, 2 and 3 and are made of galvanized steel, copper and stainless steel.